Riferimenti bibliografici
Siti e pagine web
X
Compare solo un rettangolo bianco con la scritta:
Withheld from public release under
§6 of the National Security Act of 1959,
50 U.S.C. 3605 (P.L. 86-36)
= Trattenuto dalla pubblicazione in base al §6 del
National Security Act
ecc.ecc.
X
Only 24 letters because did not exist already the
j
and the
v
consonant variants of the vowels
i
and
u
, that came slowly into use only after 1550.
X
The complete key is:
Blocco indicatore a pos. 60
CNWVE BGZGV PRZZJ KGOPE QPOMK KTXDM DFAAB EBHEH DUZDT IOZXE 
ENTSA EDTBG 

GFMGF NLHVP 

PZKOC EXRDU VHHPA ITDCU JIAWO GJZNE 
PDDZR GDPXH JTPRI PZBTB WCKWY YDIYQ NNTRN LXQBV YKONC XDCYW 
EVZOR YNUGL LTYFK LRICS EADSO GPRIO ONJNC BMPWS BIMZN XLFGO 
YKPBD DITVR HJERX HSJWP CXXPX LNJQT XODMQ HQYAL PIVUZ TBSCY 
HFWFV TQIDG BAVFM MMDLM OBVJV UCXNF WVLSA GMRPP YQPTW CFIFQ 
VURQD NLGLZ MHUYZ VELMT AKKQE GSKPY BLSTC WGNDS NPZIO ZDSKQ 
MLBXB GEUQT SRFLK HHRVK KIAJQ OIUHT LUFMR GSWBJ PUAUF LBNDX 
YNFYX WNGQV ZCPEO HLHDN RSHSN NEPBH MZVSY TOLZF HZHWD WDPDG 
CVZKN NYRDZ ZQYUI WNWIN CPMJM QFPFJ WIEWT RKRJN QIDPC MMQJV 
DLKQU XGZNM IJVMG OEQFN DWVHL YUYPD TTPEJ JBPJO BSXWF ELJUR 
XYNTF ZRZXH DQASU JCWZL KADIX IMISG ZPFNI KNAKK HOBIG WRISR 
UDSXL PGXYY EYNJL WUYWF JETLM AHEIA VDDNA PCHNB FRZTB LQWKM 
BUQVF DVNHE OCHSP IHSPU UVMUP OFFKQ RMLIH RMDET ITVPL LYSEO 
NYKZS ZOYEY PWLAF SRRWW LEPHU 
X
A sample of page of the original OTP booklet. Source: the 1973 David Boak's lecture cited at foot of the web page.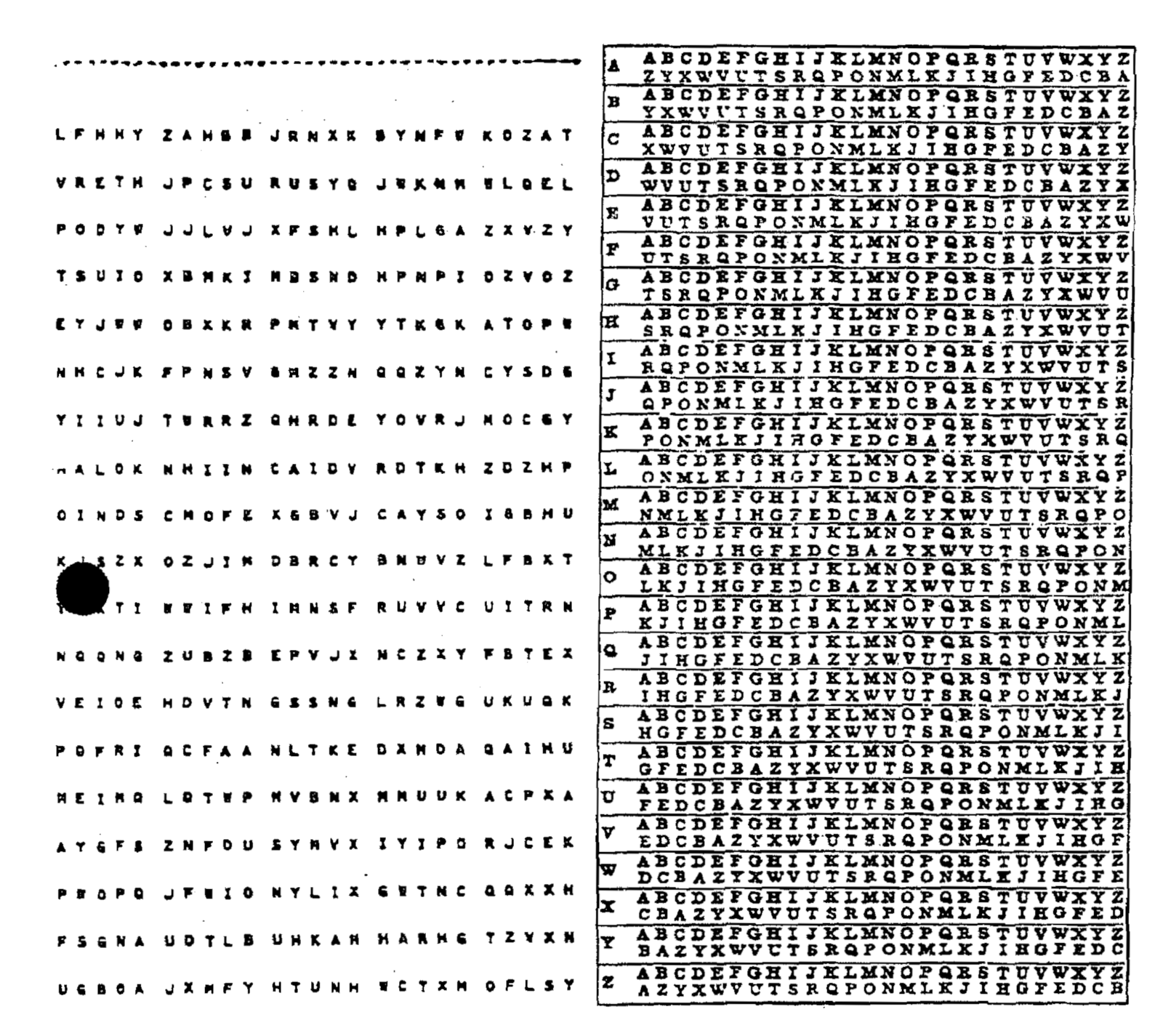 X
Modern cryptography is meant here as the one after the invention of telegraph and radio, that made transmission of information much faster but also much easier to intercept.
X
Contemporary cryptography is meant here as the one after 1970, when the spread of computers forced the invention of ciphers of a completely new kind.
X
In English: "a single eye view encompasses it all, so that in a very short time it could be possible to learn it by heart."
X
Many ciphers based on a Trithemius' table were proposed; the best known is Vigenère that added a short keyword like Bellaso's, but his cipher was not reciprocal; Sestri and Beaufort proposed reciprocal ciphers based on a reverse Trithemius' table.